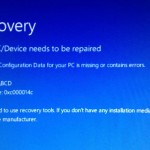 Von einem Tag auf den anderen kann ein Computer unter Windows 10 mit folgender Fehlermeldung ganz unerwartet seinen Dienst verweigern:
Recovery – Your PC/Device needs to be repaired
The Boot Configuration Data for your PC is missing or contains errors.
File:\Boot\BCD
Error code: 0xc000014c
You'll need to use recovery tools. If you don't hady any installation media (like a disc or USB device), contact your PC-Administrator or PC/Device manufacturer.
Wie man dieses Problem schnell behebt, zeige ich hier in diesem Artikel.